Home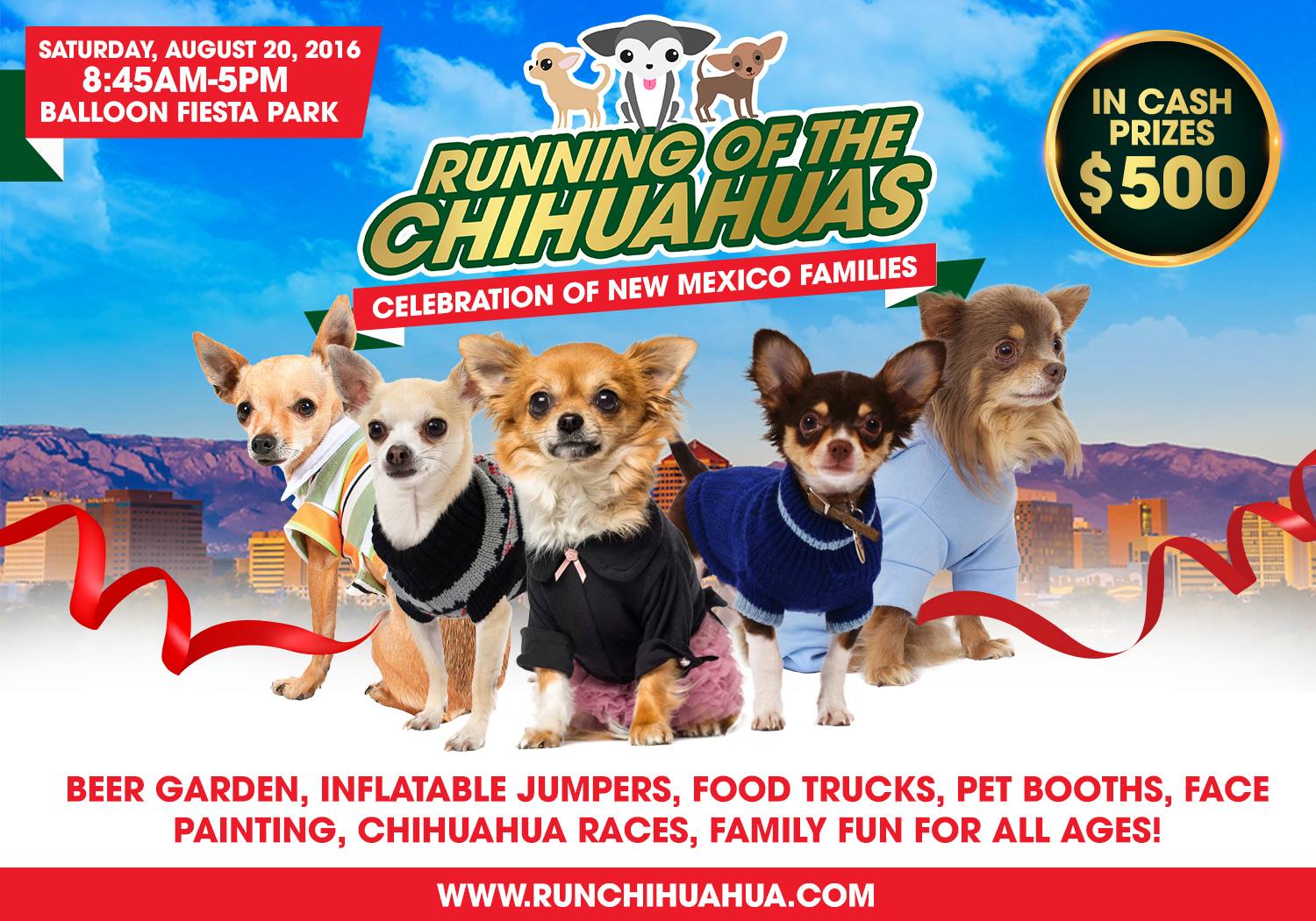 Running of the Chihuahuas
The 2nd Annual Running of the Chihuahuas returns to Albuquerque on August 20th! In the first year, 143 chihuahuas and chi mixes raced to stardom! This year will be even bigger and better!
Chihuahua races, inflatable jumpers, food trucks, beer garden, pet booths, face painting, and family fun for all ages!
Don't own a chihuahua - don't worry! There will be all breed contests for Best Costume and Doggie/Owner Look-alike.
A portion of the proceeds will benefit Paws and Stripes, a non-profit organization that provides service dogs for wounded U.S. military veterans.
$35 per dog to race (includes 2 adult tickets and swag bag)
$10 adults - early bird price ($15 at the gate)
Free - children 10 and under

Boezy
This absolutely irresistible dog is Boezy, an adorable Shih Tzu.
He promises to love you unconditionally
and will make a wonderful companion in some lucky person's life.
James Bond
My name is Bond, James Bond.
After escaping numerous villains, I was found in a plum tree, daring to swing from branch to branch. Unfortunately, I no longer have any fantastic cars or great gadgets to share, like my jet pack or my signature Aston Martin DB5, but I am a handsome gentleman dressed to kill in my very best tuxedo. I am now looking for a new home with a loving family. Never say never again, you know that I am for your eyes only.
Star
Star is a 1.5 year old, female, Italian Greyhound mix
who is affectionate, sweet, playful,
and gives LOTS of kisses.
Cleo
Cleo is a senior, female, black and silver cat
who is sweet and playful
and loves warm laps.
Briggs
Briggs is a 6 year old, male, Brown Tabby
who likes to be with people
and is good with other cats.
---