Home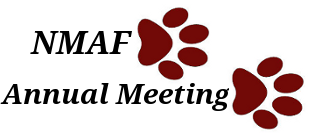 Sunday, February 26, 2017
2:00 p.m. - 4:00 p.m.
Adelante Development Center
3900 Osuna Rd. NE
(west of Jefferson)
It's our biggest social event of the year! Get caught up on the latest NMAF news, share your favorite animal stories, visit with old friends and meet new ones. Please help us celebrate with all the members of NMAF (prospective new members are welcome, too!), and get ready for an interesting presentation and discussion with our Guest Speaker, Judge Rosemary Cosgrove-Aguilar, who oversees a new Bernalillo County specialty court called the PAW Court. The PAW Court handles misdemeanor animal abuse cases with the goal of providing tools for offenders to stop re-offending, and to prevent more violent crimes. Ours may be only the second of its kind in the country. We will also be holding an election of Board members. Remember, you must be a current member with your dues paid in order to vote.
Please join us and show your support for New Mexico Animal Friends and our dedicated Board of Directors! Enter through the almost-hidden door on the east side of the building. Refreshments will be served. We hope to see you there!

Join Us for the NMAF 10th Annual Fur Bowl
A family fun, bowl-a-thon fundraiser for New Mexico Animal Friends
Sunday, May 7th
Lucky 66 Bowl
6132 4th St. NW
Albuquerque
Registration and lane assignments start at 2:00 pm
Bowling begins at 3:00 pm
$30 per adult
$15 per child (under 12 years)
Lane Sponsorship: $250
(if the same sign is used as last year: $200)
There will also be a silent auction, food, and prizes
Your participation helps to save the lives of homeless cats and dogs in our community

Briggs
Briggs is a 6 year old, male, Brown Tabby
who likes to be with people
and is good with other cats.
---