Home
Yappy Hour!
Saturday, October 8th
2:00 pm - 5:00 pm
Tractor Brewing - Wells Park
1800 4th St. NW
Albuquerque
Camp Bow Wow and Tractor Brewing Co. present a Fall Yappy Hour benefiting NMAF!
Stop by and meet some of our wonderful dogs available for adoption.
All proceeds from the fundraising go to NMAF.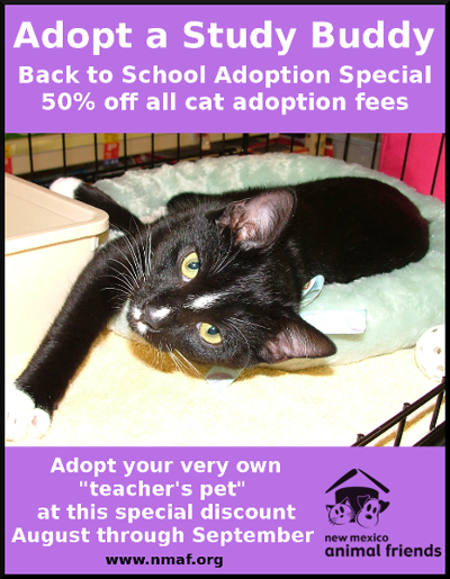 Back to School Adoption Special
All cat adoption fees 50% off through September!

Sasha
Sasha is a 3 year old, male, DSH Silver Tabby
who is smart, playful, outgoing, and cuddly.
Sasha will simply knock your socks off!
Fred Weasley
Fred Weasley, one of the Harry Potter kitties, is sacked out after a long day of playing at adoption clinic.
As he sleeps, he's dreaming of a new, forever home.
Could that home be yours?
James Bond
My name is Bond, James Bond.
After escaping numerous villains, I was found in a plum tree, daring to swing from branch to branch. Unfortunately, I no longer have any fantastic cars or great gadgets to share, like my jet pack or my signature Aston Martin DB5, but I am a handsome gentleman dressed to kill in my very best tuxedo. I am now looking for a new home with a loving family. Never say never again, you know that I am for your eyes only.
Star
Star is a 1.5 year old, female, Italian Greyhound mix
who is affectionate, sweet, playful,
and gives LOTS of kisses.
Cleo
Cleo is a senior, female, black and silver cat
who is sweet and playful
and loves warm laps.
Briggs
Briggs is a 6 year old, male, Brown Tabby
who likes to be with people
and is good with other cats.
---